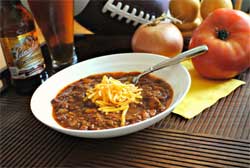 Ingredients:
2 lbs. Ground Bison
1 onion-chopped
2 stalks celery-chopped
2 large cloves garlic-minced
1- 4.5 oz. can green chopped chilies
1/2 c. butter
2- 16 oz. cans of cooked Great Northern or Butter beans (I like to puree in a can of butter beans and add a can of the Great Northern beans in whole)
1/3 c. flour
2 c. milk
1 t. salt
1-2 t. chili powder (or more if you prefer it hotter)
1/2 t. ground cumin
1/2 t. ground pepper
2 T. white vinegar
2 T. fresh lime juice
Tabasco Sauce to taste (optional)
1 c. shredded mozzarella cheese
Directions:
Brown burger in a large Dutch oven or soup kettle. Add onion, celery, garlic, chilies, and butter, and cook until vegetables are translucent. In blender, puree 1 can of the beans, flour, and 1 cup of the milk. Add this mixture and the rest of the ingredients but the cheese to the pot and simmer for 1/2 hour to blend the flavors. Add cheese and blend in to melt it before serving. Garnish with a dollop of sour cream, a sprinkling of shredded mozzarella cheese, and a dash of paprika or fresh cilantro. Makes six to eight servings.