Cooking with bison is easy! This delicious red meat can be substituted in any recipe used for beef, with just a few adjustments. For one thing it cooks faster, and gets you out of the kitchen sooner.
Bison meat is a sweet, dark, dense yet tender, very lean red meat. The dark color is due to the iron content and the lack of marbling with fat. With a few modifications, bison meat can be substituted for beef in any recipe for a delightful new taste and a healthier diet. Here are a few hints to make cooking with bison successful.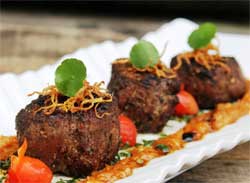 The first thing to keep in mind when cooking bison, is that it cooks much faster than other meats. This will also make meal preparation faster, and that's great. The lack of fat as an insulator is the reason bison meat cooks roughly thirty percent faster than beef.
The best tool that you can have when cooking bison is a meat thermometer. Meat can overcook in just a minute, so watch temperatures closely, and do not cook past 155 degrees internal temperature. Remember that internal temperatures will rise while meat is "resting", so it is better not to rush meat to the table. Instead, let the meat rest, covered and in a warm place, for 4 to 6 minutes to let the juices redistribute. Use tongs to turn meat, never a fork, or precious juices will be lost. For the same reason, don't press burgers with your spatula.
Because of the low fat content of bison, coating with olive oil or other light oil will help prevent drying and sticking, enhance the flavor and help brown the meat. Marinating lean cuts like sirloin and strip steaks is recommended. Choose a marinade that has a light flavor to enhance moisture content and meat flavor. If you do not have the time for a marinade, your favorite rub will help break down connective tissues, and should be pounded a few times into the meat.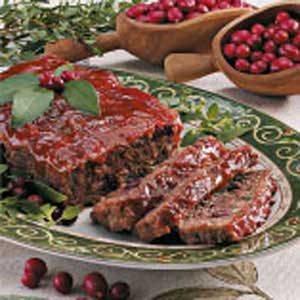 Bring your meat to room temperature before cooking if possible, and always preheat your oven, grill or pan. If you normally roast meat at 325 degrees, for bison meat turn oven temperatures down to 275 degrees and roast the same time as beef. If broiling, move the rack a little further from the heat. Sear meat quickly to seal in juices, then grill over a low flame, being careful not to over cook. Remember that meat thermometer! If you are grilling a piece of meat that takes longer to cook (or you prefer your meat very well done), the temperature should stay very low, and the meat should be basted with liquid frequently to keep it juicy. Stove top cooking is great for steaks, as you have better control on temperature. You can also use butter in the final minutes to carry seasonings through the meat the way your favorite chef would do.
Slow cooking in a crock pot produces excellent results. Many bison producers say they put frozen roasts directly into the crockpot with great results. With this slow moist cooking, you cannot over cook the meat. Cook it all day, and come home to a fine dinner. Browning the roast will help to seal in juices, so is recommended when time permits.
Try substituting bison in one of your favorite recipes, and see if your family doesn't love it! We hope you will try the wonderful variety of recipes we put together for you in this cookbook. We're sure that you'll agree, eating healthy never tasted so good.
---
Recipes
by Roger Provencher Ingredients: 1 kg boneless Bison cut into cubes. I use Shanks or will marbled cut 2 tablespoons butter 2Read More

---

Ingredients: 1 pound bison stew meat (Stew meat is generally cut from less tender roasts such as chuck, shank and short rib)Read More

---

Ingredients: 4 Bison tenderloin, 5 ounces each 1 Tablespoon Extra Virgin Olive Oil 1/4 Tablespoon Garlic, minced 1 Tablespoon Rosemary, fresh, roughRead More

---