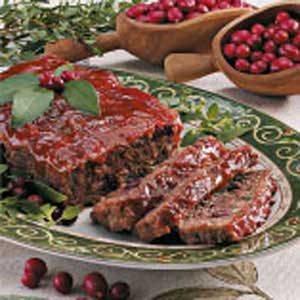 INGREDIENTS:
1 lb bison meat, ground
1 tsp garlic salt
1 small onion, diced
1 c. cooked rice
1 egg, beaten slightly
1 cup tomato sauce
2 cup cranberry sauce (I prefer whole berry sauce for this recipe)
1/3 cup brown sugar, packed
1 T. lemon juice
DIRECTIONS:
Stir together cranberry sauce, brown sugar, tomato sauce, and lemon juice in a saucepan and heat through. In a bowl, mix together 1/2 cup of the cranberry mixture, meat, garlic salt, parsley, onion, rice and egg. Shape into 4 small loaves. Place into a lightly oiled baking dish. Bake at 350 degrees for 40 minutes. Place loaves on a platter and pour remaining sauce over meat before serving. If you are cooking for two people like I am, try saving two of the meatloaves and the sauce separately. Save the sauce for much later. Make a different topping for the leftover meatloaves using a pineapple sweet and sour sauce, or mushrooms and onions in sour cream, or just go wild with your own creativity for your own masterpiece.