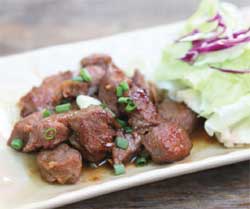 Ingredients:
1 pound bison stew meat (Stew meat is generally cut from less tender roasts such as chuck, shank and short rib)
2 cups water
1 cup teriyaki sauce or marinade
peanut oil for browning
1/2 t ground ginger
1/4 t garlic powder
1/4 t fresh ground pepper
3 scallions, chopped
Directions:
Season meat with pepper, ginger and garlic powder. Use peanut oil to brown the stew meat on high heat in a cast iron skillet in small batches. By browning too many pieces at once, moisture is exuded faster than it can be evaporated. Instead of searing, the meat simmers and steams.

Combine the water and teriyaki sauce to use as a braising liquid. Option 1: If you have a pressure cooker add the browned meat and the liquid to the pressure cooker, follow the cooker's instruction. Cook for 15 minutes.

Option 2: Once all pieces are browned add the meat back to the skillet and add the liquid. Bring to a low simmer, cover and let cook for about 2 hours, checking tenderness at 1 1/2 hours. When done, discard the liquid and plate the meat. Garnish with chopped scallions and serve as an appetizer. To make a simple meal, cook rice, udon or ramen noodles, combine with bison and some of the liquid and serve.

This recipe is easily doubled or tripled to have additional meals in the freezer.